Branding Services That Will Help

Your Business
Define your unique identity with Red Kite SEO.
Elevate your brand voice, reflect your core values, and differentiate your business in your industry.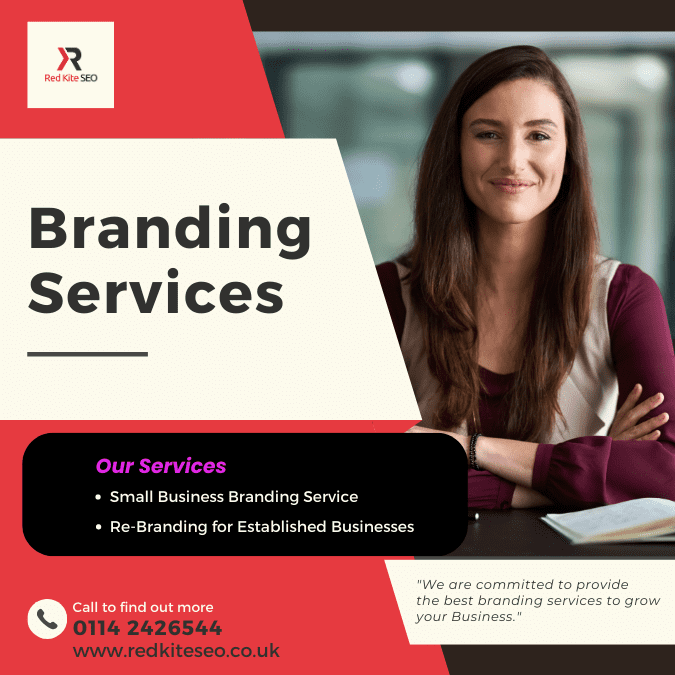 Red Kite SEO Offers Comprehensive Branding Services and Deliverables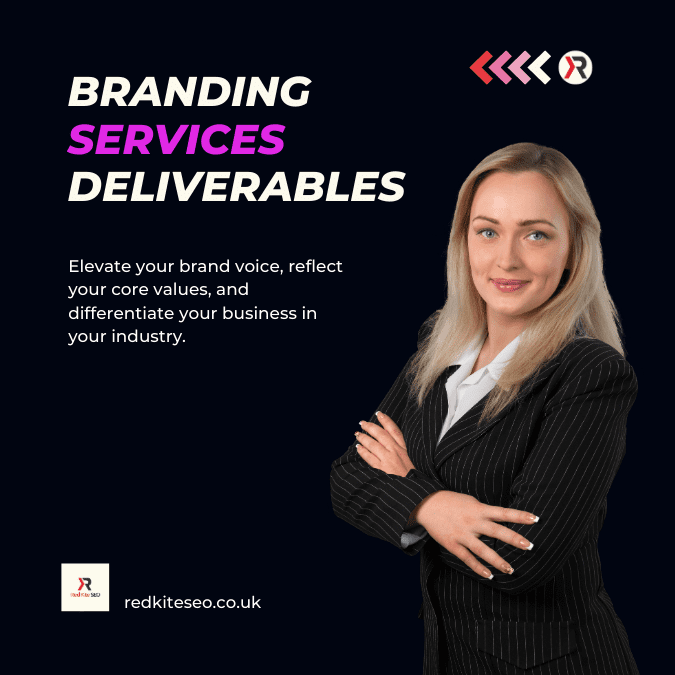 Small Business Branding Service
Unearth your unique story, create an impactful visual identity, and leave a lasting impression. Let's build your brand together!
Rebranding for Established Businesses
Harness our expertise to revamp your identity, engage customers anew, and leap ahead in your industry. Time for a brand new start, join us today!
At Red Kite SEO, our professional branding services help businesses establish strong and memorable brand identities in today's highly competitive markets.
From logo design to brand strategy development, our comprehensive solutions align with your business goals – explore our complete list of branding services and deliverables below.
1. Logo Design:
At Red Kite SEO, our talented designers create captivating logos that represent your company and leave an indelible mark with target audiences. We ensure your logo stands out and is unforgettable.
2. Brand Strategy:
A solid brand strategy is key to long-term success. Our team works closely with you to understand your business objectives, target market and competition.
Before crafting a strategic plan that effectively communicates your brand message and allows customers to connect more deeply.
3. Brand Identity:
Maintaining an enduring brand image across platforms requires creating an identity system which unifies visual branding elements, such as: 
Colour palette
Typography 
Imagery 
Tone of voice
into one recognisable look and feel for your brand. At Red Kite SEO we create visual identity systems which ensure this effect.
4. Brand Guidelines:
In order to preserve brand consistency, we create comprehensive, brand design guidelines as a reference point for your team. 
These specifications cover logo usage, colour codes, typography and tone of voice so your employees and partners know exactly how best to represent your brand accurately.
5. Brand Collateral:
Our team creates brand collateral that makes an unforgettable first impression – from the business card, cards and brochures to stationery and letterhead. 
Every piece we design aligns perfectly with the visual identity and effectively communicates its message.
6. Packaging Design:
If your business involves physical products or promotional items, our packaging design services can help create an exceptional unboxing experience for customers. 
We craft packaging that not only protects but also reinforces brand identity and is tailored towards target audiences.
7. Website Design:
Your website can often be the first point of contact between potential customers and your brand. 
Our web designers specialise in crafting visually engaging yet user-friendly sites to showcase your brand while offering an exceptional user experience across devices. 
All designs we create are responsive for maximum device compatibility.
8. Branded Content:
Red Kite SEO's Content Creation services deliver engaging and relevant content for maximum impact on audiences. 
From copywriting, blog writing and social media posting, we craft all forms of original copy specifically tailored towards engaging your target market and audience.
9. Social Media Branding:
Our team can assist your brand in creating a powerful presence across various social media platforms. 
By designing custom profiles and cover images to project your brand identity and values effectively on social media.
10. Brand Audits:
Our brand audits can offer invaluable insights and recommendations for improving existing brands. 
We take an in-depth look at their strengths, weaknesses, competitive landscape and customer perception before providing suggestions to increase the impact of existing brands.
All-Encompassing Brand Positioning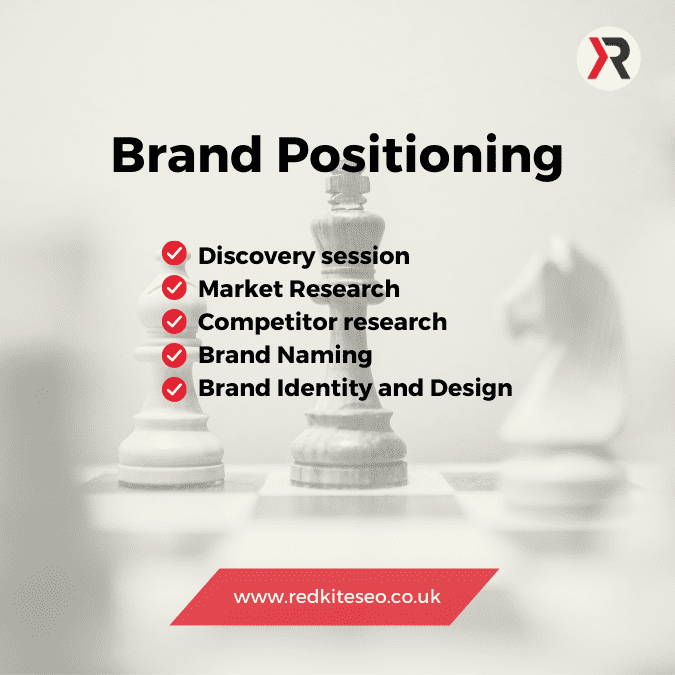 Whatever level you are at, a start-up or established business. We make a solution for you, based on your needs.
This could be just a new logo, or a complete rework or re-branding of your stationery, website and signage.
Discovery session

Market Place Research

Competitor research

Brand Naming

Brand Identity and Design
Branding is like a jigsaw puzzle, made up of several key components. 
From establishing a clear brand identity to defining a compelling brand voice and positioning. 
Each piece plays a critical role in the grand scheme of things. And with Red Kite SEO, we cover all the bases to ensure your brand is well-rounded and dynamic.
Embracing Digital Marketing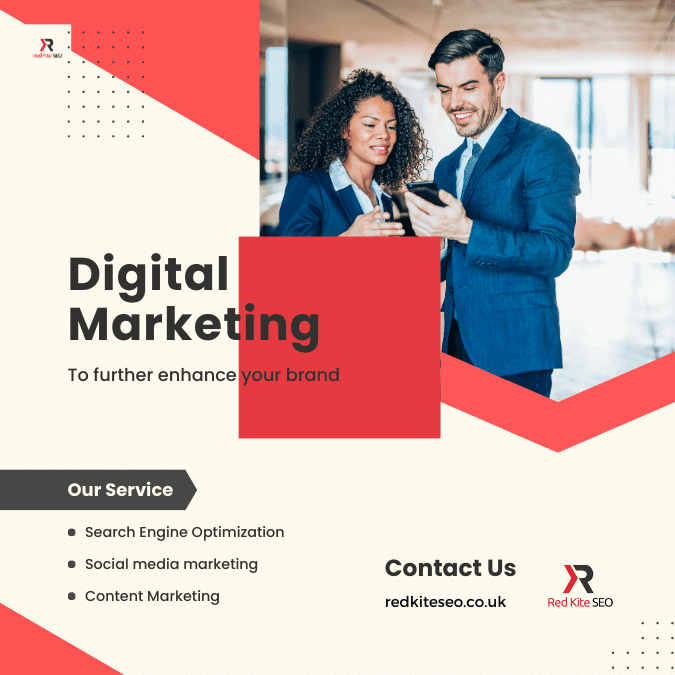 In today's digitally-dominated era, we harness the power of digital marketing to further enhance your brand. 
Digital marketing is more than just marketing; it's about strategically placing your brand where your customers and consumers are most likely to see it.
With services like content marketing, email marketing, social media marketing, and of course, Search Engine Optimisation (SEO), Red Kite SEO ensures your brand is not just seen, but remembered.
Red Kite SEO shines the spotlight on your brand, keeping you one step ahead of the competition.
The Red Kite SEO Difference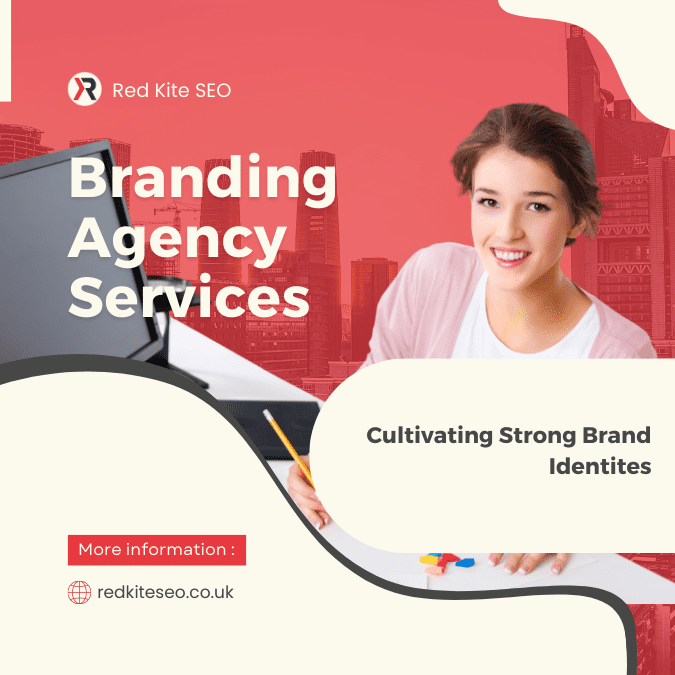 With Red Kite SEO, you're not just getting a service; you're joining a community, a family. Our core values lie in providing quality, trust, and loyalty.
So, are you ready to let your brand soar? Let Red Kite SEO guide you on your journey to brand success. Choose Red Kite SEO to make your business brand stand out.
The Art of a Branding Guide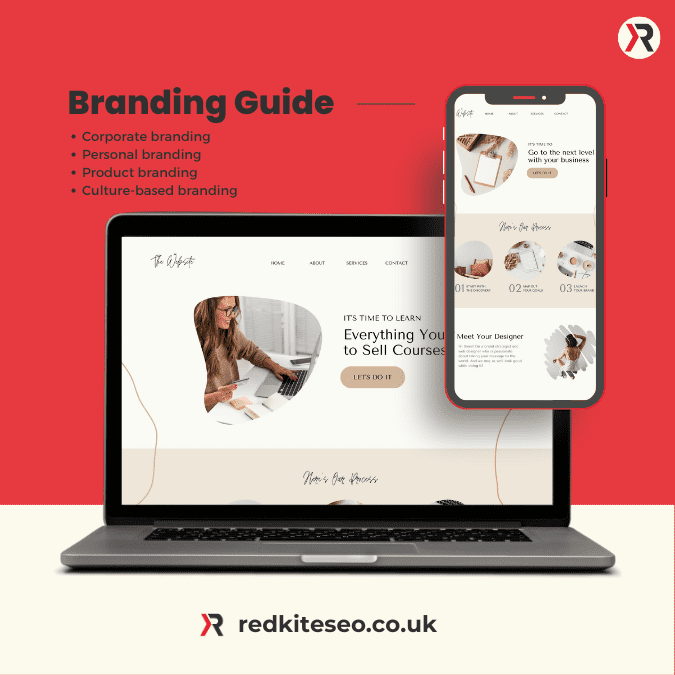 Branding is a lot like painting a picture. It's about colours, shapes, and how they all blend together. At Red Kite SEO, we help you create a brand that tells your unique story.
It's more than just a pretty logo design or a catchy tagline. It's about showing the world who you are and what you stand for with clear brand messaging.
A Smart Economic Move
Investing in branding may seem like a big step, but it's a smart investment.
Strong brand strategies and business branding services hook in more customers, making it a savvy economic choice. 
And that's what we aim for at Red Kite SEO – helping your brand based business thrive economically with brand clarity.
Empowering Businesses
Every business is unique, whether you're a tiny start-up without brand equity, or a large corporation with established brands, we offer branding services tailored to your needs.
We believe in empowering businesses to reach their full potential, and it all begins with creating a compelling brand.
Connecting with Customers
At the heart of every business are the customers.
We build a bridge between your small business branding services, and its customers, fostering a long-term connection rooted in trust and brand loyalty. 
With Red Kite SEO, you're not just building a brand; you're building relationships.
Get Exceptional Branding Services with Red Kite SEO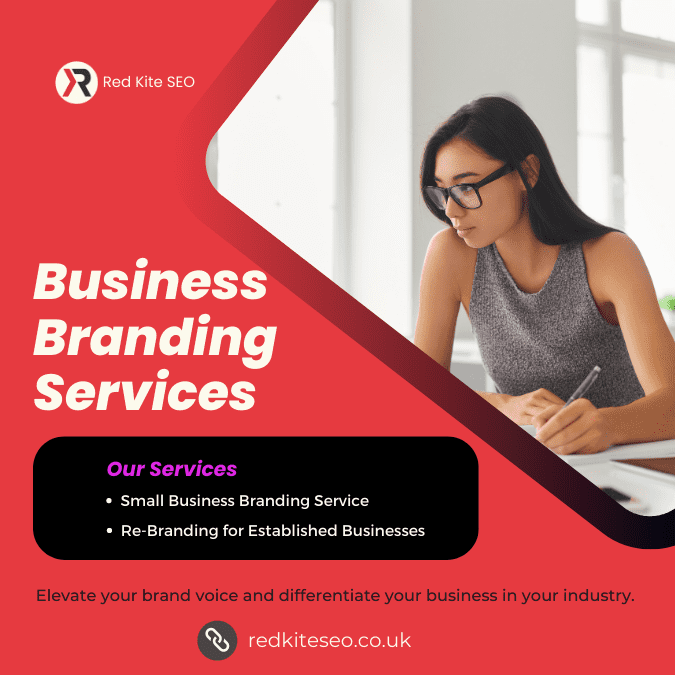 Painting Your Brand's Picture
Creating a brand is an art, and branding agencies like Red Kite SEO, we aim for meaningful brand identity design. 
By helping your business shine, sculpting an image that's uniquely you. 
Through our creative agency and branding services, we make sure your brand tells its own special story.
Fueling Your Marketing Fire
Navigating the online marketing landscape can be tough. But don't worry, Red Kite SEO is here to guide you with brand positioning. 
We turn up the heat on your marketing efforts, helping your brand's voice echo loud and clear. 
From a whisper to a roar, we're here to amplify your brand message everywhere.
Boosting Brand voice, Big and Small
Whether you're a budding start-up or a seasoned company, Red Kite SEO is your partner for brand positioning and growth. 
Our branding services are designed to propel businesses forward, no matter their size.
 We don't just boost your brand, we boost your confidence in the business world.
Weaving Your Website's Magic
We weave your business brand into your website, transforming it into a powerful marketing tool. 
Engaging, easy-to-navigate, and perfectly aligned with your brand messaging, that's the Red Kite SEO promise.
Polishing Your Product Persona
Every product has a story to tell, and with Red Kite SEO, we help yours do just that. 
Through strategic branding, we craft a persona for your product or services that customers can connect with.
After all, people don't just buy products, they buy the stories branding tells.
Crafting Your Brand Identity with Red Kite SEO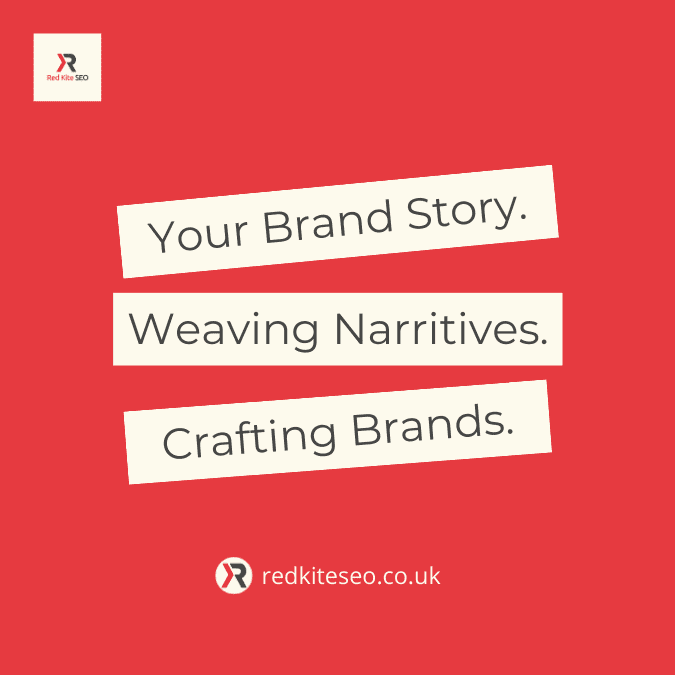 Lighting the Branding Beacon
Branding isn't just about having a catchy name or a striking logo. It's about setting a beacon that attracts your customers. 
At Red Kite SEO, we light that beacon for you. We help you craft a brand identity that distinguishes you from the rest, making you the lighthouse in a sea of businesses.
Tailoring the Perfect Fit
We tailor your brand identity to fit your audience. We identify what resonates with your customers and weave it into your brand messaging, creating a perfect fit. 
With Red Kite SEO, you're not just providing a service, you're creating a brand identity that fits like a glove.
Connecting the Customer Dots
Your customers are the heartbeat of your brand. Understanding them, their needs, their desires, is what shapes your brand identity. 
At Red Kite SEO, we don't just connect the dots; we help you understand them. We build bridges between your brand and your customers, fostering connections that stand the test of time.
Embodying the Brand Essence
Your brand identity is the essence of your business. It's the feeling people get when they think of your brand, the expectations they have when they use your services.
At Red Kite SEO, we help you embody that essence. We shape a brand identity that's not just seen or heard, but felt.
With us, your brand identity isn't just a concept; it's an experience.
Forge Your Brand Strategy with Red Kite SEO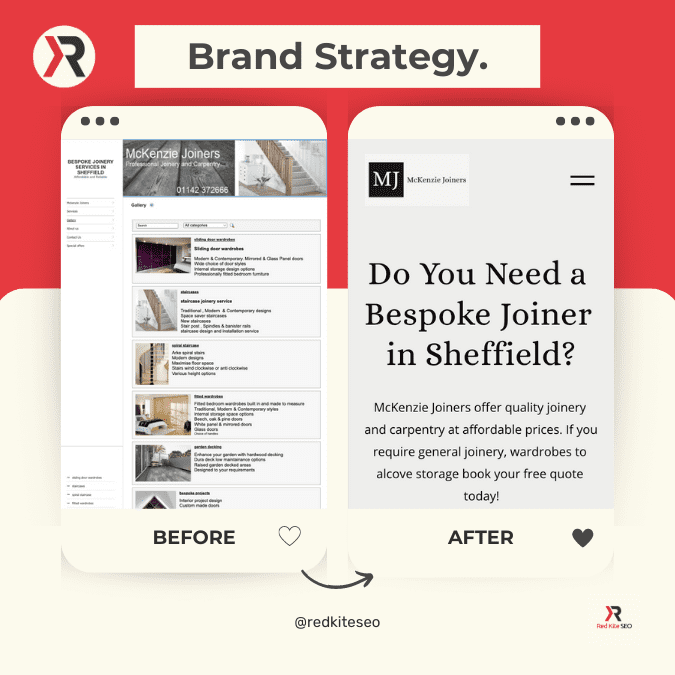 The Blueprint of Branding
Consider your brand strategy as the blueprint for your business. It lays out the what, the how, and the why of your brand. 
We help design a strategy that puts your brand on a path to success, keeping your business standing strong amidst competition.
Navigating the Marketing Maze
In the complex maze of the market, a well-planned strategy acts as your map. 
It directs your branding efforts and marketing campaigns, leading you to your desired audience.
Tailoring Services to Fit
Your brand strategy defines how you deliver your services. Think of it like a menu at a restaurant. It sets the expectations of your customers. 
At Red Kite SEO, we help you tailor a strategy that aligns with what your customers want, making sure they're always served the best.
Crafting the Customer Journey
A brand strategy isn't just about attracting customers; it's about guiding them on a journey. 
A journey that starts with them discovering your brand, and ends with them becoming loyal customers.
Mastering Your Marketing Strategy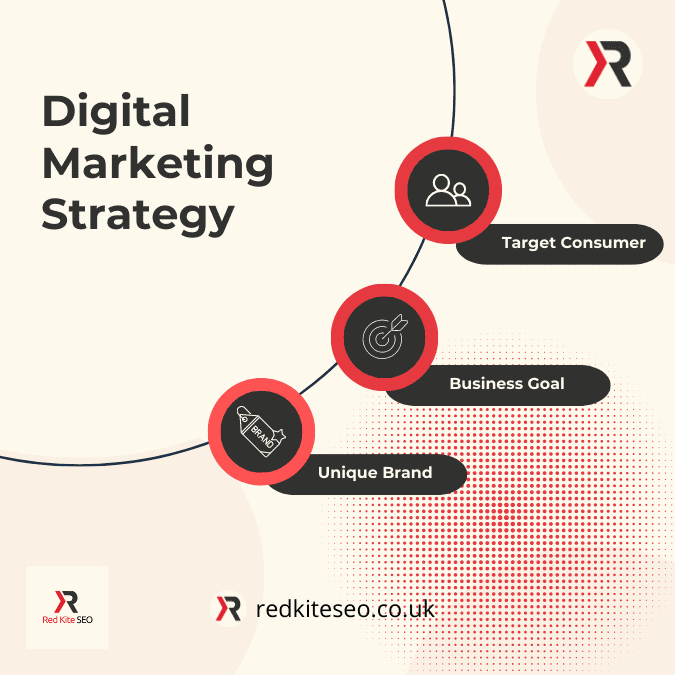 The Power of Branding
In the world of marketing, your brand is your superhero. It's the emblem on your cape, the force that makes you stand out.
At Red Kite SEO, we empower your superhero, shaping a branding strategy that highlights your own unique characteristics, powers and values, catching the eye of every onlooker.
The Art of Marketing Strategy
Imagine a chess game. In this game, your marketing strategy is your game plan. It's how you outsmart your competitors and claim victory.
With Red Kite SEO, we strategize, we analyse, we adapt, ensuring your brand always stays one step ahead.
Reaching Out to Your Audiences
Marketing isn't just about speaking; it's about reaching out to your target audience and making a connection.
At Red Kite SEO, we help you tune into your audiences' frequency. We decipher their language, understand their needs, and help your brand speak in a way that resonates with them.
The Right Services at the Right Time
Knowing when, where, and how to offer your services can make all the difference in marketing.
Red Kite SEO, ensures your services are served right. We plan, we test, we optimise, making sure your services are presented in a way that appeals to your customers.
Putting Customers at the Heart
At the end of the day, marketing is all about the customer. It's about understanding their desires, their concerns, their aspirations and solving their problems.
At Red Kite SEO, we put customers at the heart of your marketing strategy.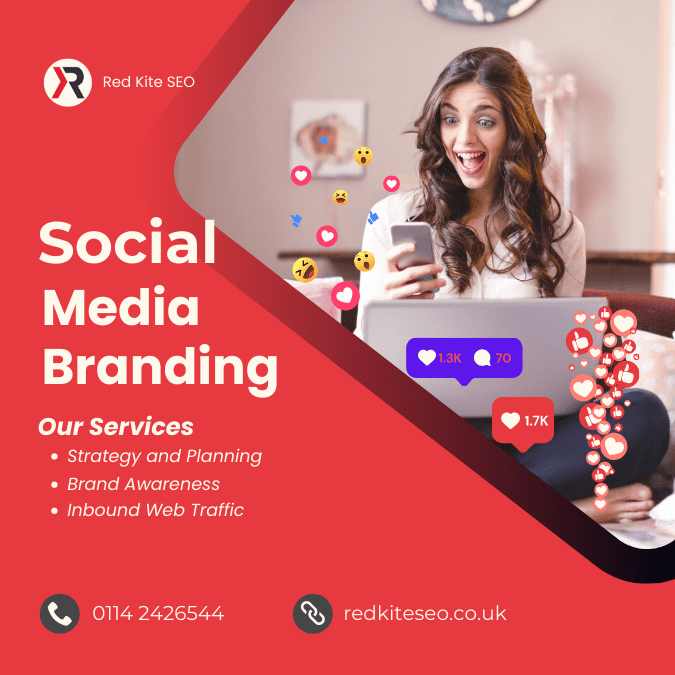 The Social Side of Branding services
Imagine your brand at a social gathering. How does it behave? What does it say? How does it look? In the digital age, branding isn't confined to billboards and TV ads. It's about being social, being interactive.
Crafting a Social Marketing Strategy
Social media can be a maze, but with the right marketing strategy, it becomes your playground. A place where you can engage, entertain, and educate your audiences. 
At Red Kite SEO, we help you master this playground. We plan your moves, choose your games, and make sure your brand enjoys its time in the park.
Engaging with Your Audiences
On social media, your audiences don't just listen to your brand's story; they become a part of it. At Red Kite SEO, we help you make your audiences feel valued, heard, and seen. 
We help you create engaging content that sparks conversations, builds relationships, and strengthens your brand's social presence.
Showcasing Your Services
Social media isn't just for posting pictures or tweeting thoughts. It's a platform to showcase your services, to let your audiences know what you have to offer.
Winning Customer Hearts
The beauty of social media lies in its ability to touch hearts. It enables brands to create emotional connections with customers, to make them feel special. At Red Kite SEO, we help you use social media to not just win customer likes or shares, but to win their hearts. 
We help you build a social media brand that's loved, appreciated, and recommended.
Discover Red Kite SEO Business Branding Services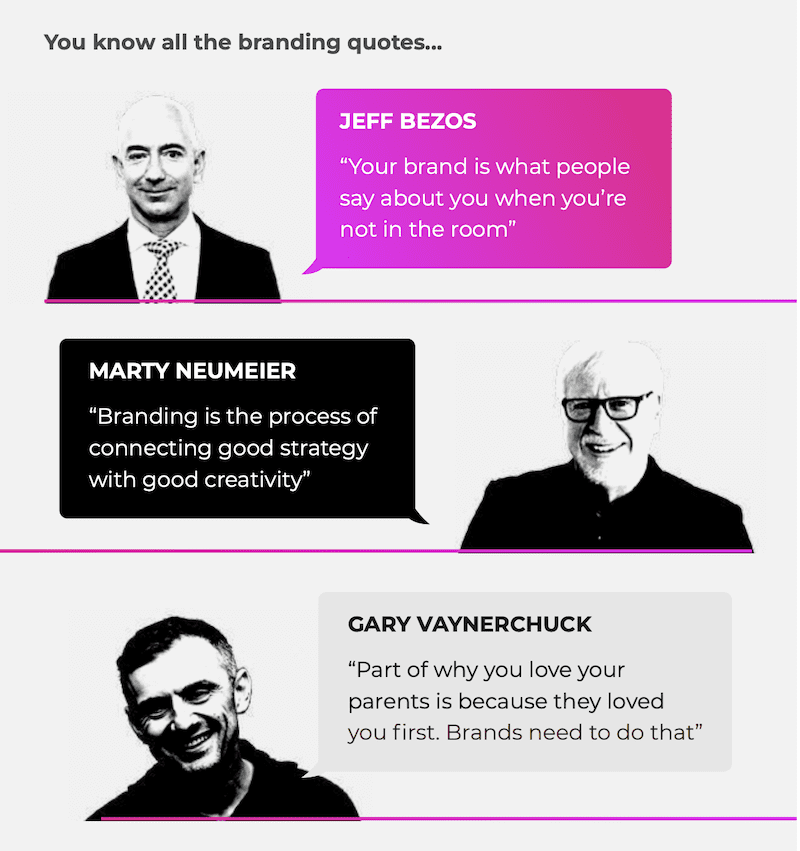 Identify Your Unique Story
At Red Kite SEO, we help your brand find its unique voice and story. By understanding your core values, we create a strong brand voice and identity that truly resonates with your audiences in your industry.
Create a Strategic Plan
We chart a clear brand strategy to guide your journey to success. Whether it's entering a new market or building customer loyalty, we're with you every step of the way.
Integrate Your Brand
We integrate the visual elements of your brand into all aspects of your business, from your website and marketing materials to your social media presence. Ensuring your brand not only exists but thrives across all platforms.
Get in touch today, and find out how Red Kite SEO will help your business get successful branding.
Small Business Branding Service
Unearth your unique story, create an impactful visual identity, and leave a lasting impression. Let's build your brand together!
Rebranding for Established Businesses
Harness our expertise to revamp your identity, engage customers anew, and leap ahead in your industry. Time for a brand new start, join us today!